Staff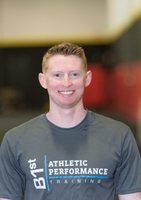 Connor Abreu
Co-Director of Performance, Sports Performance Coach, MS, CSCS
E-mail:
Connor Abreu joined the B1st Athletic Performance staff in January of 2017. He recently received his Master's of Science in Exercise Science from Montclair State University (2017), and his Bachelor's of Science in Exercise Science in 2015, also from MSU. A former collegiate baseball player at MSU, Connor is also a Certified Strength & Conditioning Specialist certified through the National Strength and Conditioning Association (NSCA-CSCS).
Prior to joining the B1st, Connor spent the summer of 2016 interning at the prestigious, Cressey Sports Performance – Massachusetts. He was one of 11 interns chosen out of 160+ applicants. During his internship, Connor worked with elite collegiate and high school athletes, along with several professional baseball players – including former World Series Champion, Tim Collins. Connor served as a strength and conditioning coach during the 4-week New Balance Area Code Baseball Training Camps in Texas, Pennsylvania, and Wisconsin during the fall of 2016.
Connor spent 2014-2016 working as the Director of Performance for the Montclair State University baseball team and an Exercise Science Graduate Assistant during his time in graduate school. Connor designed and implemented the year-round performance training programs for the MSU baseball team. As a graduate assistant, Connor taught and assisted with several lab courses; completing two research papers related to baseball biomechanics and the effects of various training protocols. During the fall of 2014, Connor spent that time working as an intern Strength & Conditioning coach at Seton Hall University working with all 14-varsity sports teams.