Staff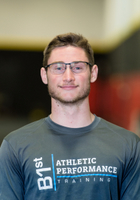 Andrew Lysy
Co-Director of Performance, Sports Performance Coach
E-mail:
Andrew Lysy joined the B1st Athletic Performance staff in September of 2016. He recently received his Bachelor's Degree in Health & Exercise Science from Rowan University (2016). Andrew was a pitcher for the Prof's baseball team from 2012-2016. After a promising freshman campaign, winning New Jersey Athletic Conference Rookie Pitcher of the Week four times, Andrew underwent Tommy John surgery.
Prior to joining B1st, Andrew spent the summer of 2016 interning at the prestigious, Cressey Sports Performance – Florida. Along with Co-Director, Connor Abreu, Andrew was one of 11 interns chosen out of the 160+ applicants (5 in Florida, 6 in Massachusetts). During his internship at CSP – FL, Andrew worked with some of the nations top high school athletes, college athletes and professional baseball players.
Andrew's biggest influences are the staff at Cressey Sports Performance – Eric Cressey, Brian Kaplan, Shane Rye & Tim Geromini.